Could ChatGPT write your property blurbs? We find out.
Mar 03, 2023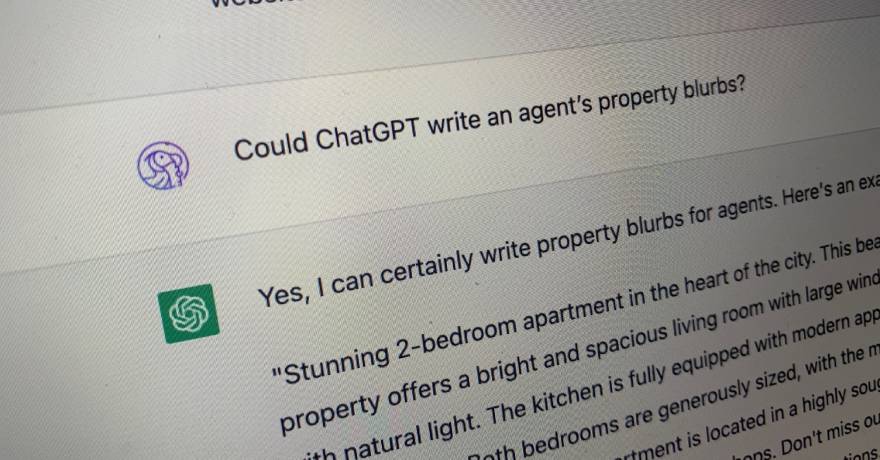 In late 2022, OpenAI's ChatGPT publicly landed to much fanfare and quickly gained lots of media attention over its AI abilities. Chatbots had already been around for many years, but ChatGPT caught people's attention for its detailed responses and articulate answers across many domains of knowledge.
This new bot can answer questions, write essays, summarise documents and write software (allegedly). It's a useful tool to make certain writing and research tasks easy. So we at RentDodo wondered whether it could help the property sector? How about writing blurbs for property ads? Can it handle that? We dived in and fired up the bot. Here's how we got on:
RentDodo:
Explain briefly what is ChatGPT?
ChatGPT:
ChatGPT is an artificial intelligence tool designed to understand human language and generate human-like responses to questions and prompts. It uses a type of machine learning called a neural network to analyse and process language data, which enables it to understand and respond to a wide range of topics and questions.
In simpler terms, ChatGPT is like a virtual assistant that you can ask questions and have conversations with. It can help you with various tasks such as answering general knowledge questions, giving you advice, providing recommendations, or even just making small talk.
ChatGPT is unique because it has been trained on vast amounts of text data, allowing it to understand the nuances and complexities of human language. This means it can generate responses that are more accurate and natural-sounding than other chatbots or virtual assistants.
ChatGPT can be accessed through various platforms such as websites, messaging apps, and voice assistants. Its ability to process and respond to language data quickly and accurately makes it a useful tool for a wide range of applications, from customer service to language translation and even creative writing.
Next, we asked whether it could write the blurbs found on property ads. Could ChatGPT make the agent's life easier and save time by writing creative descriptions about a property? Here's what we asked it:
RentDodo:
Could ChatGPT write an agent's property blurbs?
ChatGPT:
Certainly, I can give it a try. Please provide me with some details about the property and the type of ad blurb you would like me to create.
RentDodo:
First floor apartment
Available to rent from 1 April
Rent €2200 per month
Deposit €2200
Location Camden Street, Dublin
2 bedrooms
1 main bathroom
1 ensuite
Kitchen and dining room
South facing
65 square metres
B3 BER rating
Built in 2006
No pets
Unfurnished
Appliances include washing machine, tumble dryer, fridge freezer, microwave, dishwasher
Gas central heating
Wired for broadband and TV
Secure access
Secure bike parking
ChatGPT:
Here's a possible ad blurb for your property:
Experience the best of city living in this charming first floor apartment, available to rent from 1 April. Located in the vibrant area of Camden Street, Dublin, this two-bedroom apartment boasts a spacious layout with a kitchen and dining room, perfect for entertaining friends and family.
With a south-facing aspect, the apartment is bathed in natural light, creating a warm and welcoming ambiance. The main bathroom and ensuite are well-appointed, providing comfortable and convenient living spaces. The apartment is unfurnished, providing a blank canvas for you to make your own.
Built in 2006, this 65 square metre apartment has a B3 BER rating, ensuring energy efficiency and cost savings. Appliances including a washing machine, tumble dryer, fridge freezer, microwave, and dishwasher are all provided, and the apartment is wired for broadband and TV.
Enjoy the peace of mind that comes with secure access and secure bike parking, while gas central heating ensures a comfortable living space all year round. Sorry, no pets allowed.
Don't miss out on this fantastic opportunity to live in the heart of Dublin. Contact us today to arrange a viewing!
Not bad! In this instance we provided a list of all the key details of the property and it did a decent job incorporating them into a blurb. It didn't include the rent and deposit price, it must've assumed that information would be shown elsewhere on the ad, and they wouldn't be wrong about that. The output response took about 20-30 seconds. Impressive.
We then asked ChatGPT a few more questions about how it could help the agent speed up the process even more.
RentDodo:
What could I do to make it easier to generate these property blurbs in the future using ChatGPT?
ChatGPT:
To make it easier to generate property blurbs in the future using ChatGPT, you can provide more detailed information about the property. This will enable ChatGPT to generate more accurate and comprehensive descriptions of the property.
Some specific details that could be helpful to include are:
•
Square footage of the property
•
Number of bedrooms and bathrooms
•
Type of flooring, countertops, and other finishes
•
Type of appliances included (e.g. stove, refrigerator, dishwasher)
•
Amenities such as a pool, gym, or outdoor space
•
Location details such as proximity to public transportation, shopping, and dining
By providing these details, ChatGPT will have a better understanding of the property and be able to generate more detailed and accurate descriptions. Additionally, if you have a preferred style or tone for the property blurb, you can provide examples of similar property ads that you like. This will help ChatGPT to generate blurbs that match your desired style and tone.
RentDodo:
If I were to copy and paste these specific details from a spreadsheet in to ChatGPT, do you think you could handle it?
ChatGPT:
Yes, if you were to copy and paste the specific details of the property from a spreadsheet into ChatGPT, I would be able to use that information to generate a property blurb for you.
The more detailed and specific the information is, the better the property blurb generated by ChatGPT will be. Additionally, if you have any specific instructions or preferences for the style or tone of the blurb, you can provide those to me as well and I will do my best to accommodate them.
It claims it can handle a spreadsheet. Rather than typing in the information manually like we did above, this time we just copied it straight from a spreadsheet as follows:
RentDodo:
Here are the specific details copied from a spreadsheet. Could you please generate a property blurb using this information:
Property type

Apartment

Floor

First

Location

Camden Street, Dublin

Area in sq.m

65

Bedrooms

2

Bathrooms

2

Of which ensuite

1

Kitchen?

Yes

Dining room?

Yes

Living room?

No

Utility room?

No

Balcony?

No

BER rating

B3

Car parking

No

Aspect

South

Year built

2006

Pets allowed?

No

Furnished?

No

Appliances?

washing machine, tumble dryer, fridge freezer, microwave

Broadband available?

Yes

Cable TV available?

Yes

Heating

Gas

Other features?

Secure access, secure bike storage
ChatGPT:
Sure, here is a property blurb based on the information you provided:
Discover your new home in this charming two-bedroom, two-bathroom first floor apartment, located in the sought-after area of Camden Street, Dublin. With an area of 65 square metres and a sunny south-facing aspect, this apartment offers a comfortable and bright living space for you to call home.
The apartment features a well-appointed kitchen with modern appliances including a washing machine, tumble dryer, fridge freezer, and microwave. Enjoy entertaining guests in the spacious dining room, perfect for hosting dinner parties.
Built in 2006, this apartment has a B3 BER rating and gas central heating, providing energy efficiency and cost savings. With secure access and secure bike storage, you can feel secure in your new home.
This unfurnished apartment is ideal for anyone looking for a blank canvas to make their own. Broadband and cable TV are available, making it easy to stay connected with the world.
Located in a prime location, this apartment is within walking distance of many amenities, including shops, restaurants, and public transportation. Sorry, pets are not allowed.
Don't miss out on the opportunity to live in this desirable location. Contact us today to schedule a viewing!
Again, not bad! It captured most information accurately, and handled null values well. The blurb correctly doesn't mention a balcony, however, it also omitted the fact one of the bathrooms is an en-suite. The question is though, does everyone store their property information like this? Also, with further testing we could see whether it can handle more complex tasks such as including local amenities, public transport routes and nearby shops and restaurants.
AI writing tools such as ChatGPT might be a time saving tool to the busy property agent, but it requires having the property details to hand in a structured fashion in the first place. Maybe with more experimentation this could become the go-to tool for writing property blurbs?

Taking the hassle out of renting for everyone.
RentDodo is made and hosted in Ireland. Registered office: Broadmeadow Hall, Applewood, Swords, Co. Dublin. Company no.: 686534.
Stay up to date
Email address
Yes, send me RentDodo news and updates (unsubscribe anytime)